Vista Apex's Latest Masterpiece:
RE-GEN Universal Adhesive
Vista Apex asked Catapult Education to evaluate and provide feedback for the four above mentioned dental materials. 18 Catapult Doctors participated in the evaluation. The four materials fall in the categories of bonding, etching, and restorative.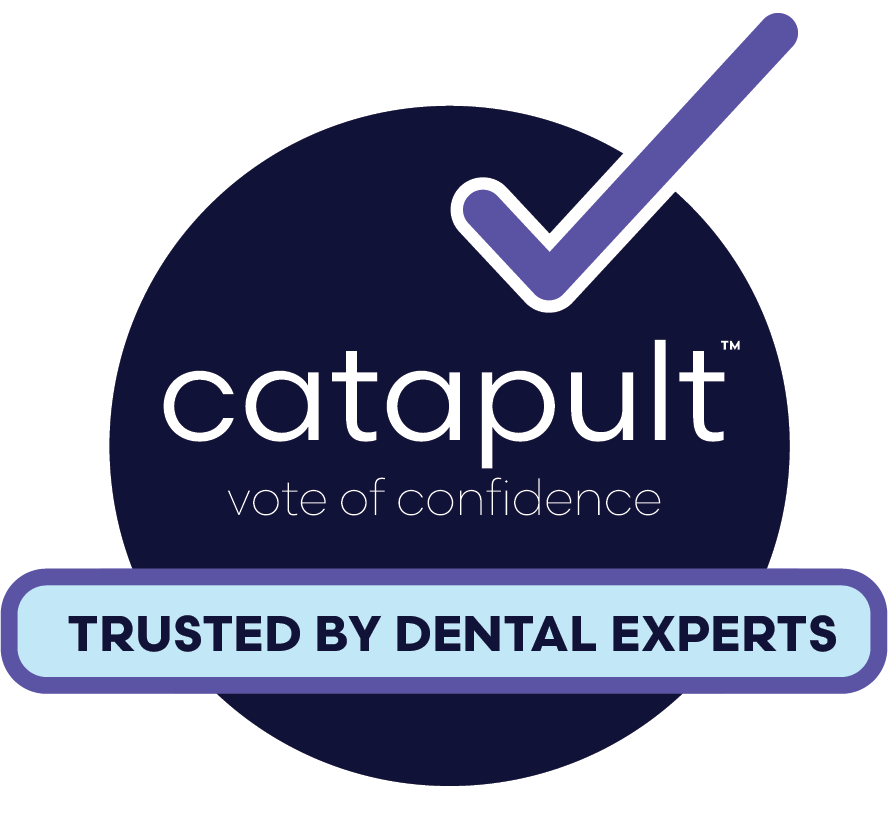 RE-GEN Is the Next Generation of Bioactive Restorative Materials
The RE-GEN materials have presented dentists with the next advancement in the evolution of resin composite restorations.
As modern dentists, we are inundated with new procedures and materials. With any new procedure or material, we will encounter hurdles while we gain a comprehensive understanding of the clinical use. As with any procedure, proper protocols must be followed to achieve maximum success. In a previous article titled "Pursuit of the Ideal Restoration," I commented, "the pursuit goes on"—the pursuit of the ideal restoration delivering beautiful esthetics, strength, biocompatibility with soft tissue, management of marginal integrity, and the ability to be built from an easy-to-use restorative material. The pursuit ushered in the evolution of composite resins with adhesive dentistry. Composite resins have long provided the ability to practice minimally invasive dentistry to preserve as much tooth structure as possible, resulting in solid restorations. Until now, we've not seen materials that can actually work to heal decayed tooth by actively preventing secondary decay while rebuilding tooth structure.
It is amazing and exciting to witness the changes in the materials we now have the opportunity to utilize. These advancements are exemplified by the evolution of restorative tools, such as resin composite, over the past 20 years. Today, dentists most likely would use resin composites when filling a direct cavity. These materials, which offer natural tooth-colored restorations, arrived in the late 1960s. Since then, the material and technique for placing them have evolved extensively. Clinicians have a wide range of composite systems to select from. The systems offer different physical properties and curing parameters and a variety of other options. Recently, newer composite materials have become the focus of a great deal of research, with manufacturers striving to improve the performance of dental restorations by changing monomers, initiation systems, fillers, and coupling agents and developing new polymerization strategies. These newer materials have evolved from static replacements of tooth structure to active materials aiding in the healing process over the long term.
The chemistry of dental materials continues to evolve and improve.
The chemistry of dental materials continues to evolve and improve. Today's trend or buzzword is bioactive. We have bioactive restoratives, bioactive cements, bioactive root canal sealers, and more. Bioactive means these materials release some sort of calcium, phosphate, or fluoride. "Bioactivity refers to any material that has the potential to induce a response or interaction with living tissue or cells, such as encouraging hydroxyapatite formation," said John Kanca, DDS, a practicing dentist in Middlebury, Connecticut. Hydroxyapatite is a biocompatible material naturally occurring in our bones, teeth, and saliva as a mineral form of calcium apatite. It can be used from our saliva to remineralize tooth structure.
97%
of our tooth enamel is made up of hydroxyapatite
60%
of our bones are made up of hydroxyapatite
70%
of the dentin is made up of hydroxyapatite
Thus, the enamel is the most mineralized substance in the body. Hydroxyapatite remineralizes teeth by replacing lost minerals such as calcium and phosphates eroded by high levels of acid and bacteria. The remineralization process acts to fill the microscopic cracks in our teeth created by decay. Hydroxyapatite from our saliva can do just that, but it needs to be attracted to the tooth structure first.
Some researchers believe a major flaw exists in the way bioactive ions are delivered today.
Most bioactive materials require a layer of adhesive to be applied between the material and the tooth. This adhesive layer creates a barrier to bioactivity, as it prohibits the ions from reaching the actual tooth structure.
RE-GEN materials include a flowable composite, a pit and fissure sealant, and what Vista Apex calls the world's first bioactive universal and self-etch adhesives.
"RE-GEN Adhesive is the first bonding agent that does not form a barrier to bioactivity. By depositing bioactive ions directly on the tooth, RE-GEN adhesive delivers bioactivity exactly where it is needed to promote regeneration of tooth structure," the company says. RE-GEN represents the next generation of restorative materials. The materials are unique bioactive products that utilize Bioglass 45S5 as a bioactive ingredient. Bioglass 45S5 has been shown to attract and exchange bioactive ions such as calcium, phosphate, and fluoride. These ions neutralize the pH of the oral environment, leading to broad antimicrobial effects that promote healing and prevention of secondary caries.
Research conducted by Nate Lawson, DMD, PhD, at the University of Alabama at Birmingham, showed further evidence of RE-GEN's ability to provide zones of inhibition protecting against secondary decay.1
"As proven in research done by Dr Lawson, continuous pH buffering from the RE-GEN materials helps prevent erosion and secondary decay," says Mike Miyasaki, DDS, chief dental officer of Vista Apex. "Coupling this with the bioregenerative nature of RE-GEN, the restoration can actually help close marginal gaps, preserving marginal integrity. The research shows that RE-GEN creates more of an alkaline environment, which allows for remineralization of tooth structure and prevents the formation of bacterial colonies around the margins of our restorations."
Studies have shown Bioglass to form a hydroxyapatite-like surface that promotes the regeneration of healthy tooth structures.
Bioglass is also osteo-inductive. It can stimulate bone cells toward a path of regeneration and self-repair, significantly accelerating tissue healing kinetics.
With the bioactivity of RE-GEN restorative products, Vista Apex has given the clinician the following properties:
targeted bioactivity: ionic release at the resin-dentin interface;
osteogenesis: stimulates regeneration of hydroxyapatite;
antimicrobial: alkaline pH aids in the prevention of secondary caries;
biocompatibility: BPA-free, patient-friendly, nontoxic compatibility; and
ease of use.
The procedure and materials were developed by Dr Kanca and Scott Lamerand, CEO of Vista Apex. The standard protocol is as follows: Prepare the tooth by placing Velvet Etch (Vista Apex), 10 to 15 seconds on dentin and 15 to 30 seconds on enamel and rinse thoroughly. Of interest, 47% of the clinicians prefer total etch, 47% prefer selective etch, and 6% prefer to self-etch. One hundred percent of the clinicians mentioned that Velvet Etch stays where they place it and rinses away clean and easily. RE-GEN Universal is then scrubbed onto the moist tooth surface or the cervical portion of an interproximal box, dried with a light stream of air to evaporate solvents. The clinician at this time has the option to light cure the adhesive. One enhancement to the delivery of the adhesive is to add the RE-GEN Flowable Composite liner to the uncured adhesive and cure both the flowable and adhesive simultaneously. The restoration is completed with the clinician placing the composite of their choice. This protocol provides bioactivity where it is most productive and useful, while allowing the clinician to utilize their favorite composite to provide the esthetics and wear they've become accustomed to.
Catapult Education was asked to perform a clinical evaluation of the RE-GEN materials.
Many of the evaluators were introduced to the new materials within a familiar restorative procedure.
With the incorporation of Bioglass, the clinicians noted, RE-GEN Universal and Self-Etch Adhesive, provided consistent results and exceptional bonding while virtually eliminating all postoperative sensitivity. Dr Miyasaki has commented, "We can place the Bioglass material right into the dentinal tubules where it will help the tooth to heal, using the adhesive and flowable composite liner together, offering stronger prevention against secondary decay." We must always use the best materials and procedures for treatment we are rendering. Our patients deserve the best. Staying informed in changes and keeping up to date is our responsibility as professionals.
With the RE-GEN materials, Vista Apex has presented the modern dentist the next advancement in the evolution of resin composite restorations.
Yes, we've gotten closer to the "ideal restoration." However, the research continues, as it should, for greater and better.
The question is, have we achieved the ideal restoration?
As of this writing, I am glad to say, dentistry as a profession will always continuously seek better materials, procedures, and products to generate even better results, and Vista Apex has delivered a significant advancement toward that goal. The pursuit goes on.
Ready to get started?
Enter your email for exciting offers from our partners, cutting-edge course offerings, and so much more.
Say NO to boring CE.
Want to stay in the loop about live and on-demand CE courses available to you?

Enter your email below 👇