BIO
Dr. Auster is an interactive speaker that combines the latest technology & techniques to customize a hands-on experience for his audiences. His 30+ years in private practice specializing in cosmetic + restorative dentistry brings a wealth of knowledge that has been quoted in Women's Health, Ok!, Glam Bellezza, and Natural Health magazines.
His article, "Groundbreaking Composite Dentistry" was the cover story of Dentistry Today Magazine
in February 2019.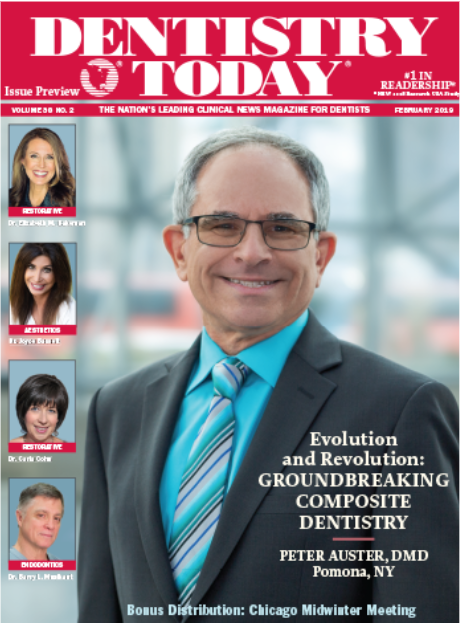 ACCOMPLISHMENTS
Top Dentist
Hudson Valley
American College of Dentists
Fellow
American Academy of Cosmetic Dentistry
Board of Directors
Concept of Complete Dentistry Award
Dawson Academy
AACD
Humanitarian of the Year
ADA
Certificate of International Voluntary Service
Greater New York Academy of Cosmetic Dentistry
Founder, Former President
Jamaica
11 years of Volunteer Dentistry
Catapult Education
Speakers Bureau Member
COURSES OFFERED
Newer than New: Surprising Changes in Dentistry
With Covid is finally on the run, dental companies are leapfrogging over each other to introduce the next great product. Some are outright exciting; some are just ways to charge higher fees for tweaked products. Dr. Auster will help you decide which direction to go when adding better, more intuitive technologies and products to your dental world.
(Lecture)
Learning Objectives:
Learn what has happened since the early days of covid to make your dental life an easier one
AI in Dentistry: the future is now, and it is pretty amazing!
Single shade composites; heated composites, Zirconia cements, temp cements, a MUCH better retraction paste; desensitizers; bulk fills; better bite materials; diode lasers; curing lights
Are electric toothbrushes necessary? A comparison and conclusion.
Should you buy that scanner now? A veteran's report.
Is Dentistry All You Want it to Be?
How happy are you with your career? Has unfulfillment followed you since dental school or is it a "middle age dental crisis"? Dental imposter Syndrome? We all have had doubts about our chosen field and our role in it. Dr. Auster helps you through those moments with compassion and clear focus on making our dental world more fun and enjoyable in an eye-opening seminar. (Lecture)
Learning Objectives:
Steps to take if you don't love what you do
What is dental imposter syndrome and how to confront it
When to start planning for retirement and how (even if you are 30 years old)
Suggestions to make your dental day a better one: sleep apnea; digital/laser options, more challenging products; AI?
AI in Dentistry: The Future is NOW
AI (Artificial Intelligence) has entered our world in a big way with Alexa, Siri, and "Hey, Google" becoming part of everyone's world. It has now rocketed itself into dentistry as well! Multiple companies have leveraged this technology in ways that can help our practices immensely. Dr. Auster discusses multiple company's products and will help you determine if they are ready for primetime…in YOUR practice.
Learning Objectives:
Learn how to determine if your practice can benefit from AI now
How a young dentist or reticent hygienist in your practice can thrive with AI learning
Learn how the morning huddle using AI technology can catapult your office
Understand which AI technologies are ready today and which are not
Learn how an immense international database can help you diagnose easier
Program: 1 hr (live or virtual)
Join the Single Shade Revolution
A huge paradigm shift has rocked the world of composite dentistry. Prior to the pandemic, most composite systems included 25-40 shades. In many cases, that number has been reduced to 5,3 or even 1 shade and the results are BETTER! Dr. Peter Auster, who was in on the beginning of this change, will guide you on a fun journey from 40 shades to ONE. Which products work best? What techniques lead to an invisible margin? Learn why this is truly the GOLDEN AGE OF COMPOSITE DENTISTRY!
Learning Objectives:
Learn how single shade systems can save you LOTS of money
Identify the best new composite for every type of restoration
How to create the Screw Hole/Post Hole Miracle (step by step)
Surprising techniques that help speed up everything
Learn about great BRAND-NEW bonding agents, better etchants, great new pulp caps, bulk-fills, flowables, Bioactive options, white spot cures that make great restorations predictable.
On to 2023! Great New Options to Improve your Dental World
Dentistry is changing…really fast! This rapid moving info-driven presentation will send attendees home with LOTS of pearls: new techniques; ways AI can inflation-proof your practice; fabulous new products, great new Indirect and Direct materials and tips to make your dental world happier. They all come together in a fun, interactive afternoon.
Learning Objectives:
Learn when and how to use great new translucent zirconias
Learn to incorporate 30 better, more economical products into your practice
Why you should throw out your old cements and use brand-new options
How to get on the exciting train of AI-assisted dentistry
Introducing: 1 second light curing!
Concrete ways to change your negative mindset to excitement about dentistry
New World Composite Dentistry, 2023 (Hands-on)
What is my best material choice for that case? The options are many…the answers come in this interactive hands-on presentation. Each year, manufacturers bring us great new alternatives. Learn what works best NOW for Class 1Vs, diasthemas, tough posterior contacts and abfractions. Participants will learn to master some of the newest product offerings, experience new age translucency matching and handle bold new materials that just may change how you think and practice.
Learning Objectives:
New materials, are we experiencing a paradigm shift?
Learn when and how to use bulk fill flowables
How to create perfect posterior contacts every time-you'll do it today!
From Concise and Adaptic to today-a crazy composite history
Silicone Stent to enamel shell to beautiful class 1V TODAY
Fabulous rapid polishing-the key to great cases.
Be Your Own Prosthodontist
We face difficult cases every day in our offices. We must determine where we "want to go" and how to reach that goal. A long-time Academy leader shares the tips and pathway to becoming the dentist you always dreamed you would be. Gain confidence today as we review multiple cases.
Learning Objectives:
Learn a systematic way to simplify and treat ANY case
How to phase cases for any budget with injection molding
How to determine which indirect material to use for each case.
When to use deprogrammers as a diagnostic and therapeutic tool
How to attract more cosmetic patients and get your staff excited to encourage them
Appropriate uses for today's new Zirconias and brand-new cements
Bioactive/Biomimetic Dentistry: The Time is NOW!
Take The "Dents" Out Of Dentistry
Imagine a "jump-start" to revitalize your dentistry and your life. This fun presentation provides concrete tips to make every dental day better via new techniques, practice management tips, and great new products. Expect a lot of "gems" and solid information to use on Monday morning.
Learning Objectives:
How to take charge of your dental world- eliminate the negative and add what makes you smile
30 better, brand-new, more economical products to use on Monday Morning
Learn about the latest esthetic zirconias…what are 3y/4Ys and 3Y/5Ys? When to use each
Cementation 2023: Learn why it's time to throw out ALL pre-pandemic cements and get newer, better ones
Learn why it's time to adapt AI dentistry in every office- yes, NOW!
Why most of us left dental schools with "dental imposter syndrome- and how to triumph over it
RECENT & UPCOMING COURSES
Say NO to boring CE.
Want to stay in the loop about live and on-demand CE courses available to you?

Enter your email below 👇