Catapult Education™ Speakers Bureau
Ankur Gupta, DDS
General Dentist
Ohio, USA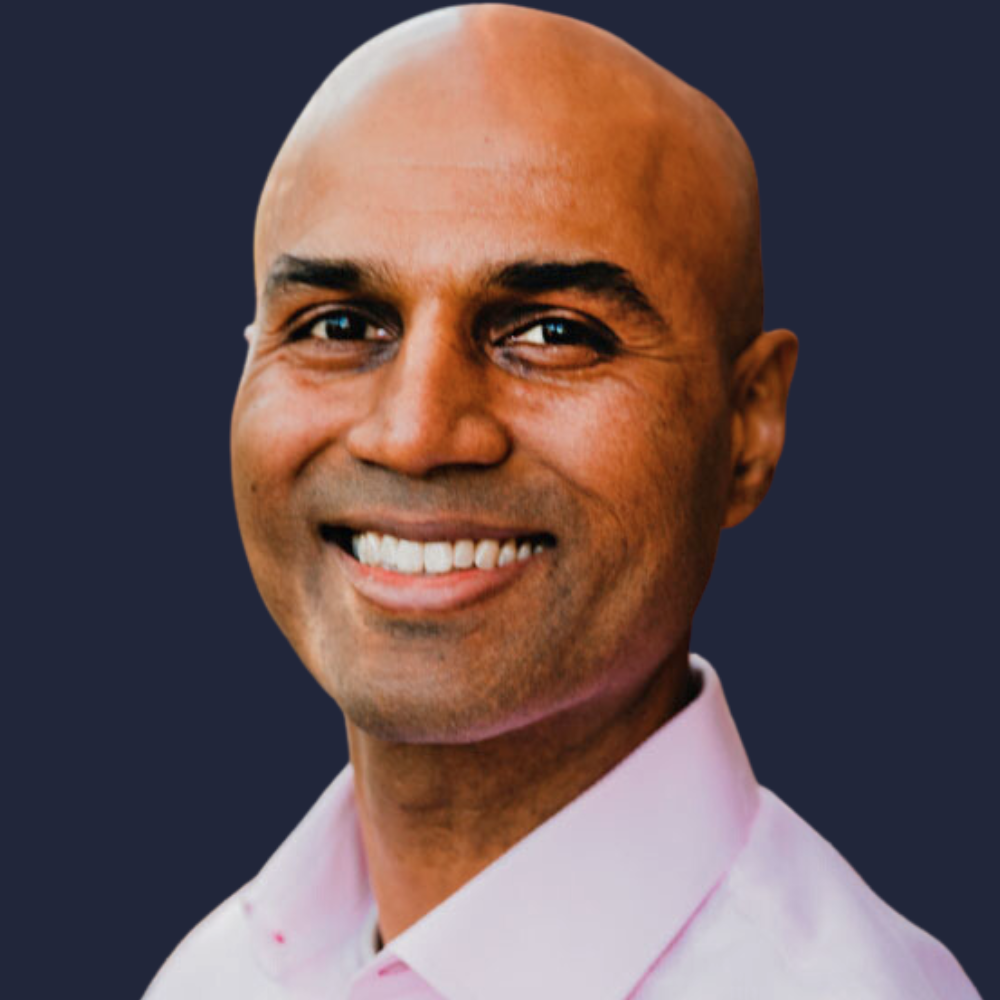 Lecture Topics
Case Acceptance
Dental Implants
Leadership
Practice Management
Team Building


Wellness and Self Improvement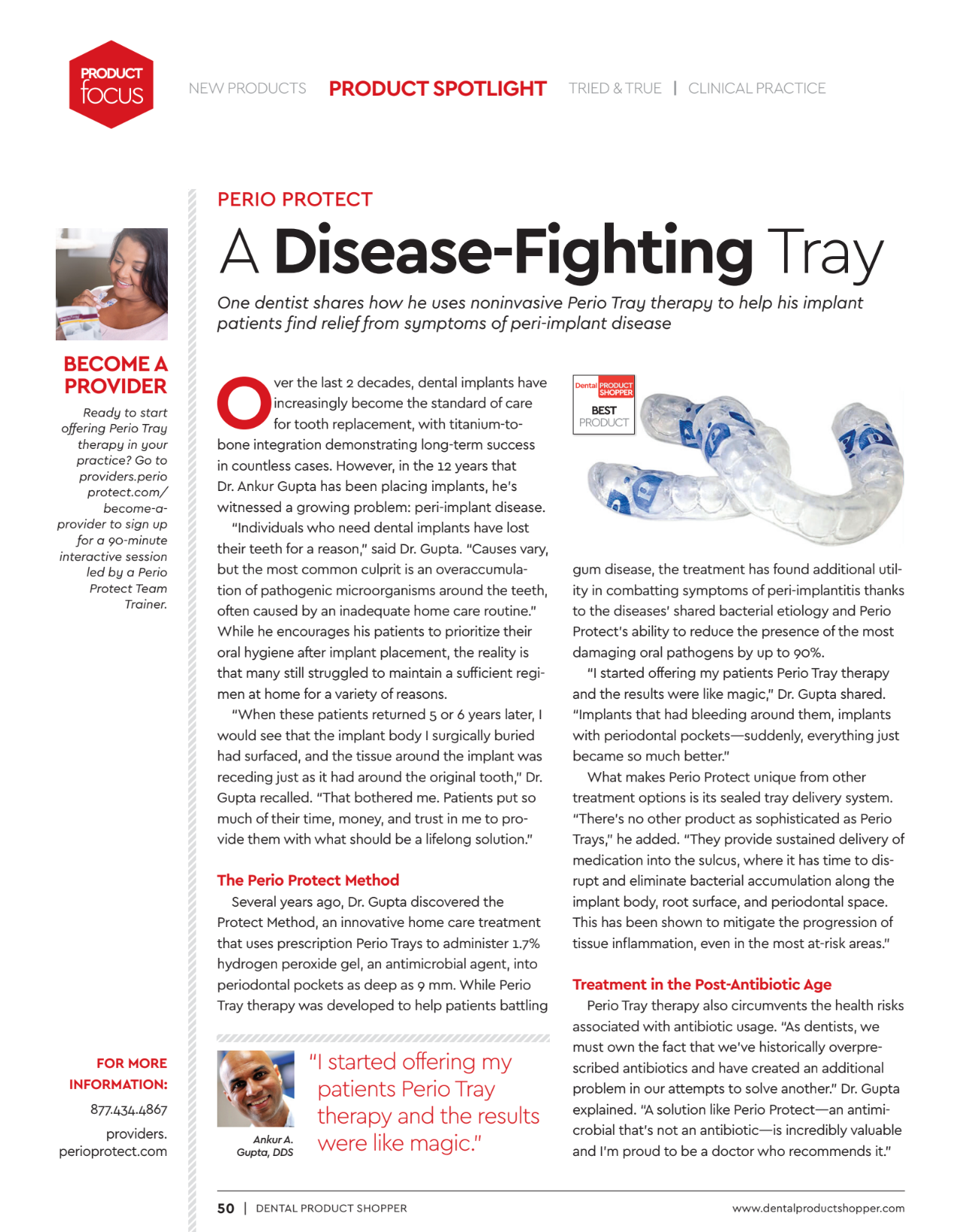 A Disease-Fighting Tray
In this article, Dr. Ankur Gupta shares how he uses noninvasive Perio Tray therapy to help his implant patients find relief from symptoms of peri-implant disease. This article features Perio Protect's Perio Tray product.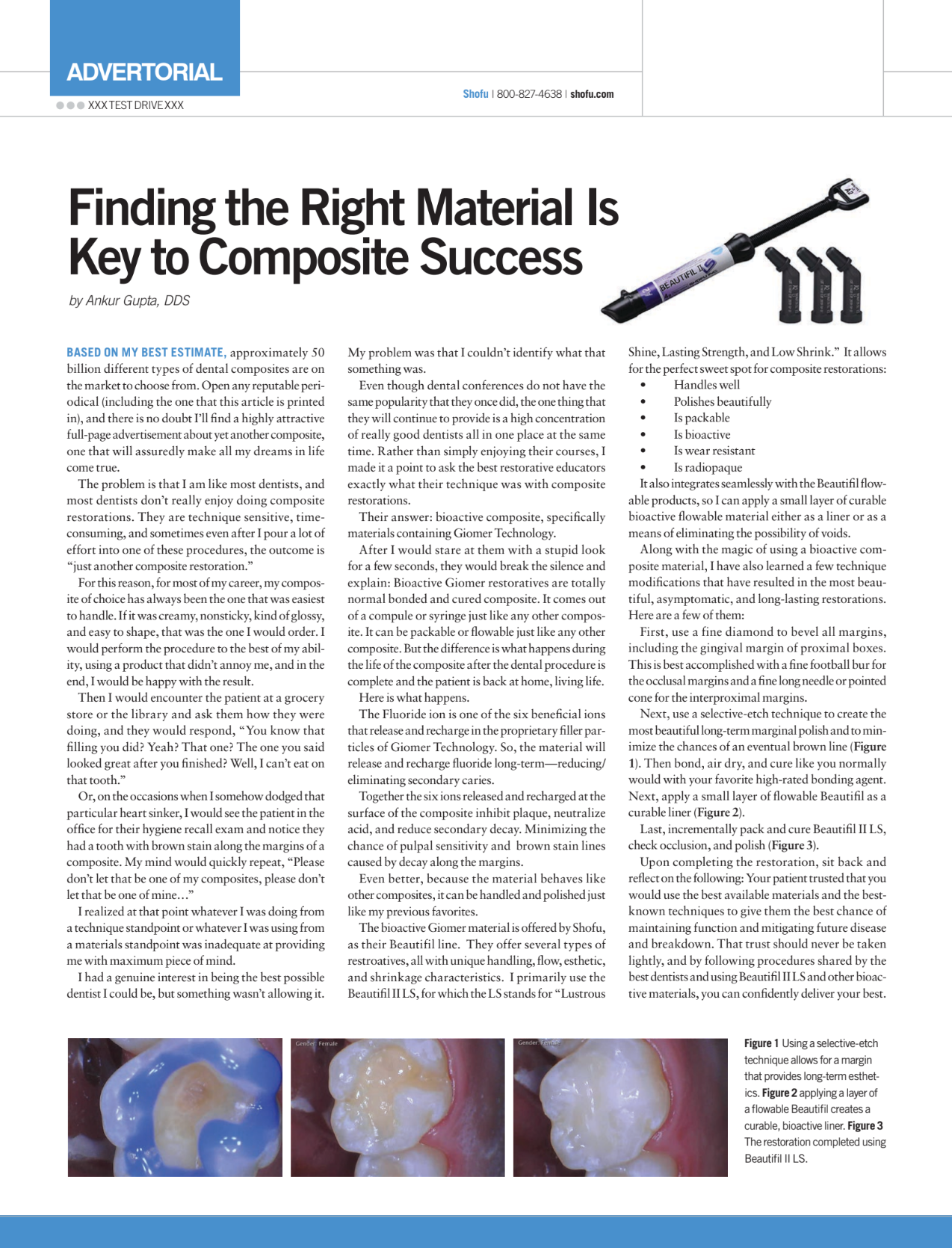 Finding the Right Material Is Key to Composite Success
In this article, Dr. Ankur Gupta shares his discovery of bioactive composite, and how it transformed his outlook on composite restorations. This article features Shofu's Beautifil product line.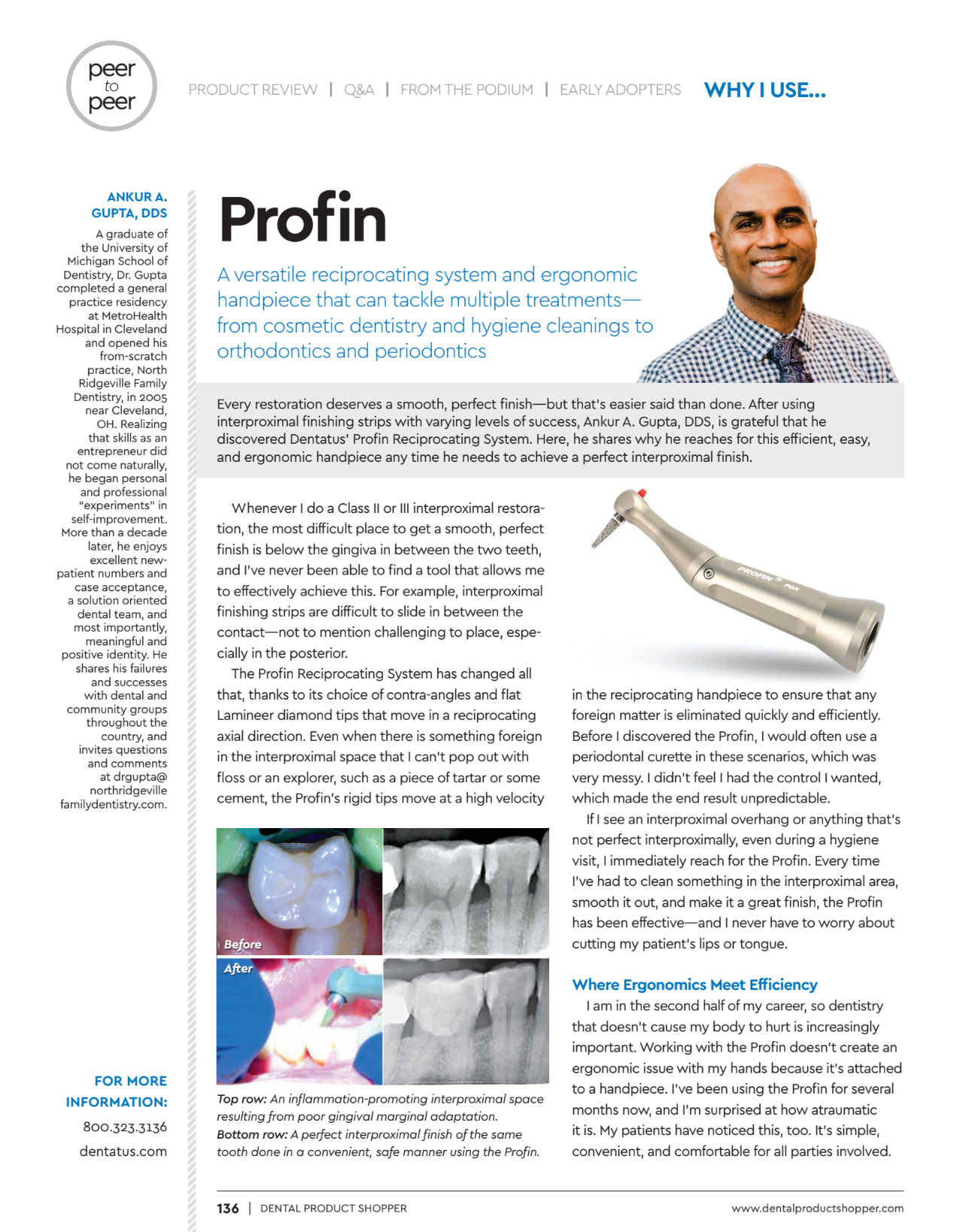 Why I Use...Profin
In this article, Dr. Ankur Gupta reviews Dentatus' Profin Reciprocating System. He shares why he reaches for this efficient, easy, and ergonomic handpiece any time he needs to achieve a perfect interproximal finish.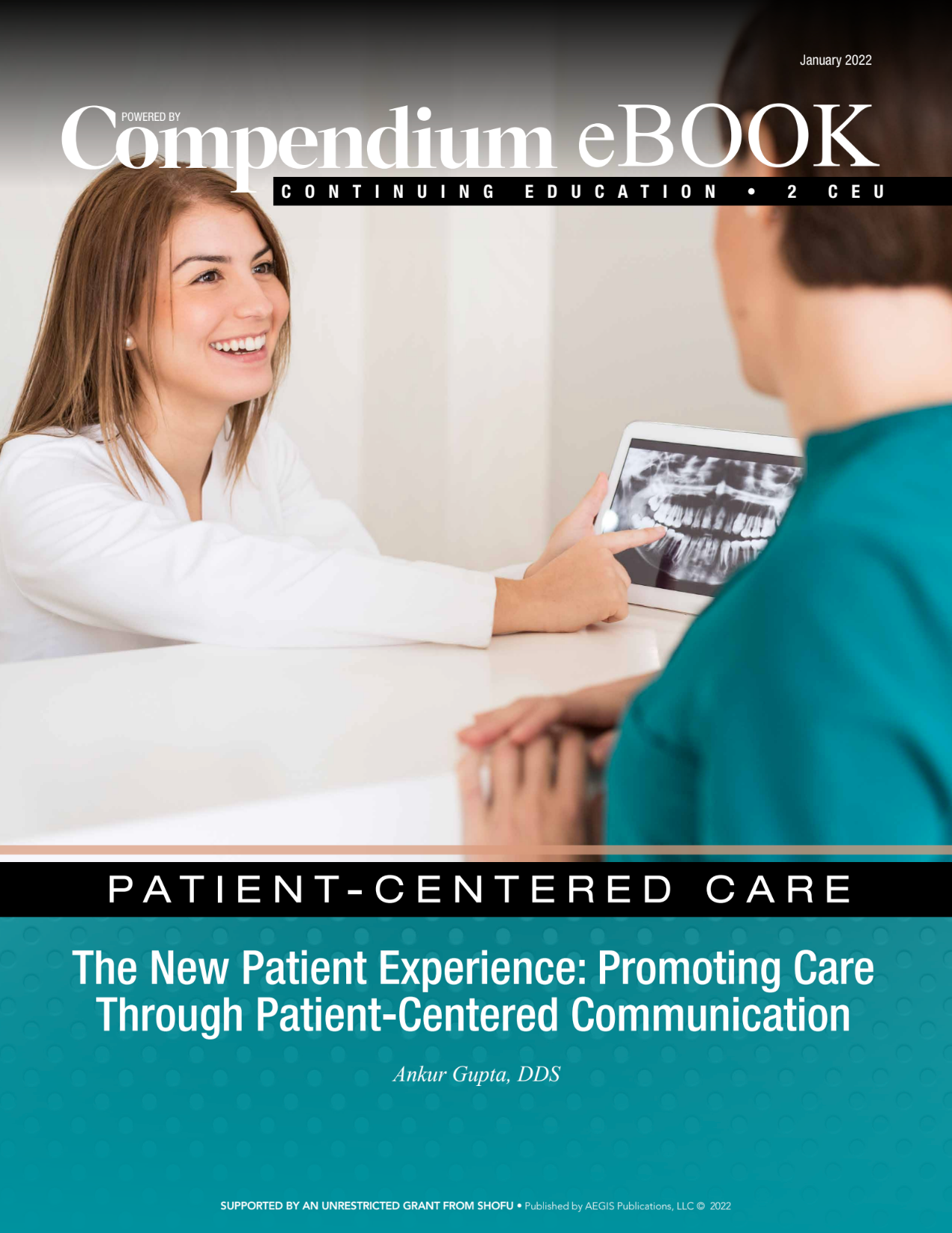 The New Patient Experience: Promoting Care Through Patient-Centered Communication
Cultivating patient-centered communication is a crucial aspect of overall patient care. In this article, Dr. Ankur Gupta reviews the different patient interactions that occur during the typical dental office visit of the new patient, and describes the techniques that should be used by dental staff members in each situation.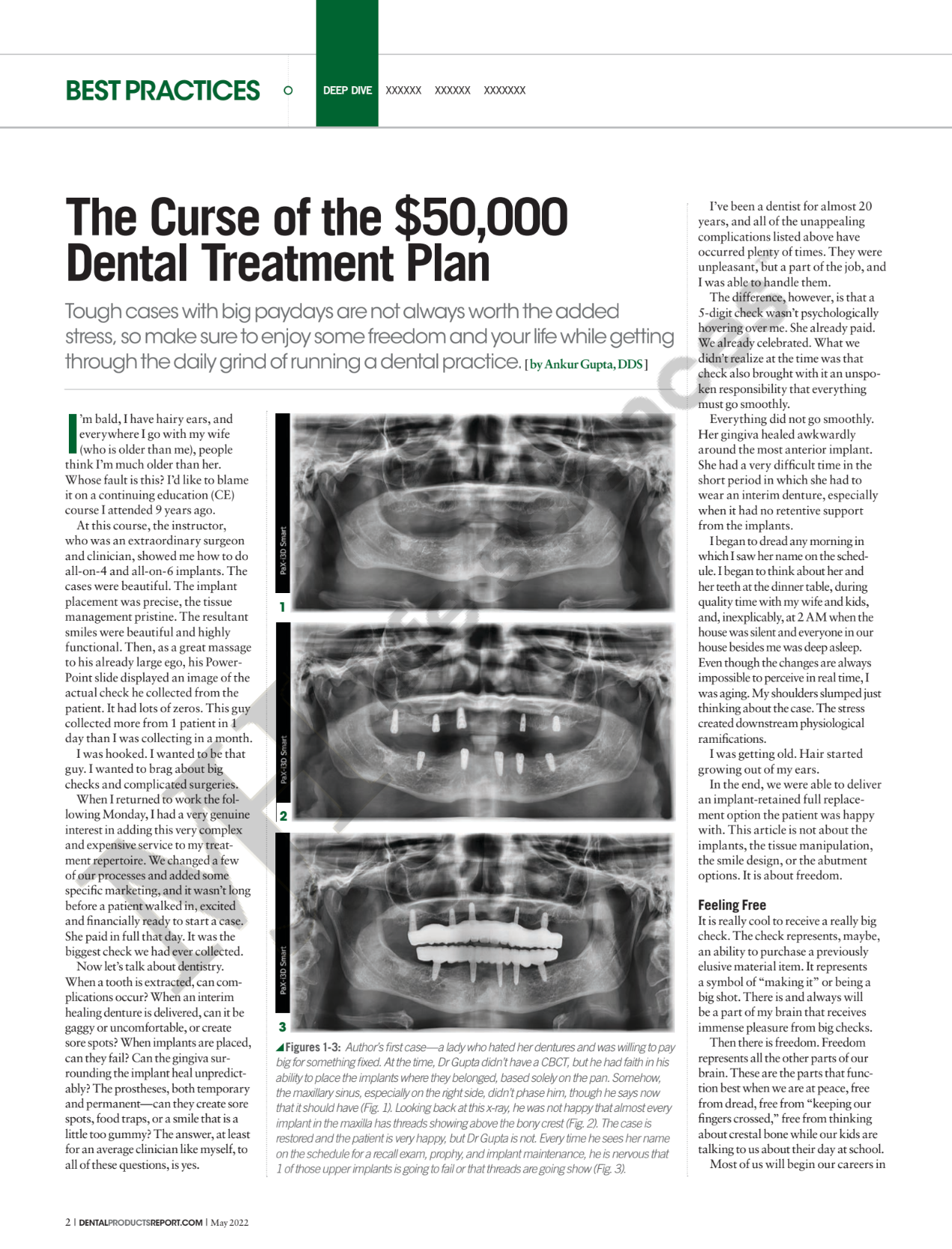 The Curse of the $50,000 Dental Treatment Plan
Dr. Ankur Gupta shares from personal experience why tough cases with big paydays are not always worth the added stress.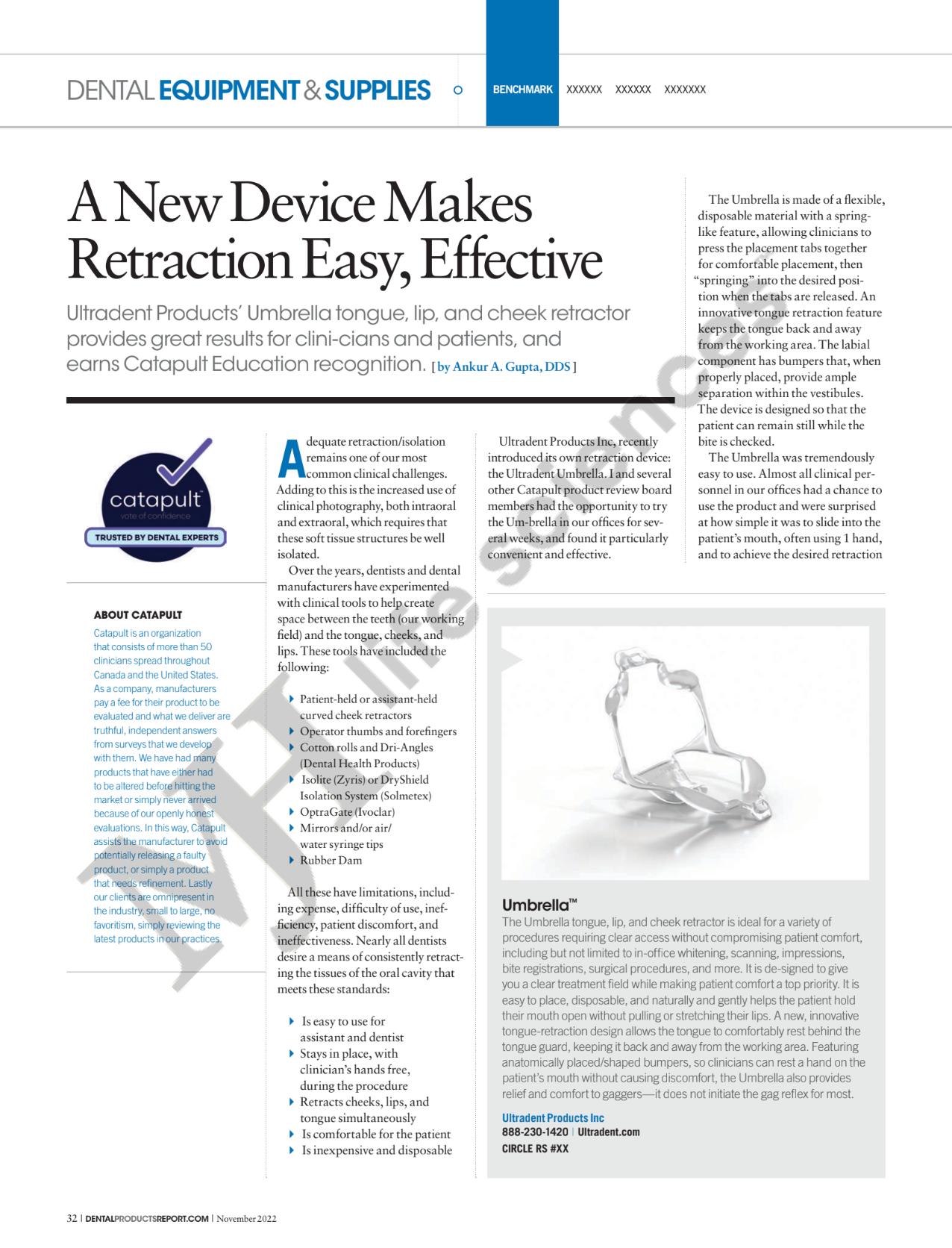 A New Device Makes Retraction Easy, Effective
In this article, Dr. Ankur Gupta reviews Ultradent's Umbrella retraction device and shares why it has become indispensable for the hygiene team and dentists in his office.
Meet Your Next Big Dental Speaker
About Dr. Gupta
Armed with adequate knowledge, hand skills, and a personable demeanor, Dr. Ankur Gupta watched as his practice floundered, finances became unpredictable, and his lower back and spirit toward life became worrisome. Rather than continue the trend, Dr. Gupta made a guinea pig out of his office, family, and self, attempting any and all personal and professional experiments in self-improvement.

More than a decade later, he enjoys excellent new patient numbers and case acceptance, a solution-oriented dental team, and most importantly, a meaningful and positive identity. He happily shares his failures and successes with dental professionals and community groups, always ending his presentations with practical, implementable, step-by-step ways to be better.

Dr. Gupta graduated the University of Michigan School of Dentistry in 2004. In 2005, after completing a one-year General Practice Residency in Cleveland, Ohio, he and his partner Dr. Nisha Gupta started North Ridgeville Family Dentistry from scratch. In addition to founding North Ridgeville Family Dentistry, Dr. Gupta is a member of the American Dental Association, Greater Cleveland Dental Society, Ohio Dental Association, ADA Success Speaker Corp and an active board member and speaker for Catapult Education's Speakers Bureau.

Honors and Achievements
American Dental Association

Member


ADA Success Speaker Corp

Member
Catapult Education
Board Member
Speaker Bureau Member

Greater Cleveland Dental Society
Member

North Ridgeville Family Dentistry
Founder

Ohio Dental Association
Member

See What's in Demand Right Now
Discover Dr. Gupta's Latest Courses
Ordinary Achieving Extraordinary
Every office contains individuals who all possess a multitude of flaws. Even in the most dynamic, successful, consistently happy organizations, flawed individuals still exist, far from perfect. How does a group of ordinary people create something extraordinary? Vision, systems, personal reflection, honesty about unique drawbacks, and many more pragmatic and attainable frameworks that any dental office can replicate. In this course, Dr. Gupta will introduce steps to optimize the practice structure, challenging each participant to reflect upon their daily habits and routines and show how small changes can lead to a much-improved practice and personal life.
Learning Objectives:

Gain strategies for inspiring a culture of self-directed leaders
Create an environment where team members feel ownership of practice improvement
Identify and design systems of accountability
Re-think the norms of the patient experience
Discover the #1 happiness and relationship killer
Examine the culture, habits, and health of those living in Blue Zones
Identify steps to prevent and treat burnout
Introduce clinical changes that are easy on our backs and hands
The Extraordinary New Patient Experience
What makes your dental practice stand out from the rest? If you answered "friendly, caring, great clinical skills," sorry, that doesn't make you different. Every dental office believes they possess those same qualities too. In this course, Dr. Gupta will share specific services that are truly unique, that any office can employ, and that will leave patients completely amazed.
Learning Objectives:

Build a new patient experience that immediately sets you apart from dentists in your community
Utilize photography and emotion-based techniques to create a strong connection between patients and their oral health
Develop a solid hand-off strategy so that complex patient situations never fall through the cracks
"Why Did I Get A Bill? I Thought I Paid In Full" and Other Awkward Conversations Mediated by a Hostage Negotiator
No matter how incredible your team, processes, and systems may be, dentistry is never without uncomfortable situations and potentially angry patients. In this course, Dr. Gupta will present concepts from a former FBI hostage negotiator that will diffuse and create calm in the office, even during the most stressful situations.
Learning Objectives:

Understand what is generally going through the mind of the other party during a contentious conversation
Apply negotiating techniques to everyday conversations, such as kids' bedtimes and daily chores
Implement specific and systematic speaking habits revolving around active listening
Burnout, Body Pain, Debt, Stress, and Diet
Healthcare professionals boast high incomes, great hours, and favorable social status. And still, a lot of us are burnt out. Why? In this emotional presentation, Dr. Gupta shares the Mayo Clinic research behind healthcare burnout, its causes, its ramifications, and most importantly, how we in the dental profession will defeat it.
Learning Objectives:
Discover the #1 happiness and relationship killer
Illuminate the long-term impact of poor posture and a sedentary lifestyle
Gain a daily core-strength routine designed to improve your quality of life
Examine the culture, habits, and health of those living in Blue Zones
Recognize the barriers, benefits, and steps to integrating a mindful approach every day
Explore the long-term physical and psychological implications of a constantly "plugged-in" life
Identify steps to prevent and treat burnout
One Year to a Streamlined, Productive, Cutting-Edge Implant Practice
In this course, Dr. Gupta will share the most effective strategies for restorative dentists to communicate, plan, and market dental implants in their practice. This presentation will provide fully-implementable steps from the beginning of the process, gaining patient interest and trust, to the most cutting-edge techniques and solutions available in dental implant restorative therapy today.
Learning Objectives:
Discover case presentations and techniques that get patients excited about implant therapy
Understand the ideal communication process between surgical specialists and restorative dentists
Learn new and dynamic methods used by leaders in dental implantology
Recognize the difficulties and potential conflicts when introducing a new service in an already busy office
Implant Retained Removables: The Least-Stressful Replacement Option
When faced with edentulism, the options available to most patients are often limited to conventional dentures, which retain poorly, or implant-retained fixed prostheses. These prostheses can be expensive, complicated, and stressful for the dentist. Implant-retained removable dentures are a great middle-ground option. In this entertaining and highly-practical presentation, Dr. Gupta simplifies the process, providing a step-by-step guide from the new patient consult to final seating.
Learning Objectives:

Gain an overview of all long-span replacement options, understanding the benefits and limitations of each
Discover the long-term benefits that implant-retained removable options uniquely create
Attain a clear understanding of the details, steps, and supplies needed from start to finish
Uncover marketing strategies for individuals frustrated with their ill-fitting dentures
Ideally, this is a full-day course with a hands-on component. If needed, it can compress into a half-day course.
How Do People Who Are Not Born Leaders, Lead?
During the first five years of running a small dental practice in North East Ohio, it became clear that Dr. Gupta's poor leadership abilities put his small business in a dire trajectory. Without changing his personality, becoming louder, meaner, or embodying other leadership stereotypes, he advanced and inspired his team through a shared vision and clear expectations.
Many scientific journals indicate that although quiet individuals show tremendous intelligence and work ethic, they are under-represented in leadership positions. Leadership education is essential for dental practice owners, because often, the dentist alone serves as the CEO of the small business.
In this course, Dr. Gupta distills the most effective and actionable steps to becoming a better leader. Why are football coaches so big and loud? Dr. Gupta answers this and more for the shy, quiet, people pleasers and confrontation avoiders of the world.
Learning Objectives:

Learn the seven traits that all successful business leaders possess
Learn the three most fundamental ways to create loyalty among your team
Create a structured program to take the emotions out of 'firing fast and hiring slow'
Create job descriptions and policies that will keep your office accountable
Treating Periodontal Disease in the Post-Antibiotic Age
Treating periodontal disease improves oral health and reduces a chronic infectious burden on patients' immune systems. Unfortunately, it is one of the most underdiagnosed diseases. Nearly 47% of American adults have chronic periodontitis, but according to Dental Intel, only 8% of patients get treatment planned for D4341 and D4342. Of the 8%, only half accept treatment. Patients cannot make informed decisions or get the care they need without a diagnosis.
Antibiotic adjunctive therapies have a temporary, limited effect because biofilms repopulate after usage and because we are in the post-antibiotic age. A broad-spectrum antimicrobial like hydrogen peroxide is an excellent alternative for patients with gingivitis, periodontitis, peri-implant mucositis, and peri-implantitis. Attend this presentation to learn the science behind the use of peroxide for the treatment of biofilm-based diseases.
Learning Objectives:
Identify the benefits and limitations of antimicrobials with oxidative and oxygenating reactions for biofilm management
Recognize patient candidates who can benefit from Rx Tray therapy of peroxide
Evaluate clinical cases and the efficacy of peroxide in treatment
View Dr. Gupta's Speaking Samples
Fill Your Podium Needs Fast
Book Dr. Gupta for a live lecture, workshop, or virtual event today.
Say NO to boring CE.
Want to stay in the loop about live and on-demand CE courses available to you?

Enter your email below 👇