 The Dental Hygiene Practitioner Master Class
The Dental Hygiene Process of Care from A-Z
Katrina Sanders, RDH

12 CE Hours

12 Handouts
Why You Can't Miss This Course
Actionable Insights & Downloadable Tools
This master class will provide you with tips, frameworks, and downloadable tools to implement in your office.
12 CE Credits
This robust master class will provide you with 12 hours of CE credit, with a certificate following each module.
Self-Paced Learning
This 12-module course can be taken at your desired pace, accounting for your busy schedule, both professional and personal
Course Lessons
Master Class Curriculum
This master class is designed to deliver the education needed to become an expert in your craft and is paced with your busy schedule in mind. You will receive email notifications as new modules are released. Happy Learning!
Learning Objectives
Module 1: The Medical History
Review medical conditions commonly observed on history documents and their considerations
Identify specific considerations for major illnesses and operations as reported by the patient
Evaluate indications and contraindications of various medications and supplements
Examine various symptoms that may point to underlying medical conditions

Module 2: The Patient Interview
Collect data essential for patient-specific reports
Review historical and risk profiles for the history of dental disease
Integrate medical reports in understanding implications and results to patient care
Review various lifestyle considerations that may impact or influence dental care
Module 3: Vital Signs and Risk Assessment
Review the optimal and suboptimal metrics as they relate to standard vital signs
Explore advanced vital signs based on patient-specific medical conditions and modalities
Identify oral-systemic, periodontal, caries, oral cancer and parafunctional factors to influence clinical decision-making modalities
Discover ASA classifications as they relate to overall patient health
Audience: Hygienist
Method: Self-Instructional
Released: June 16, 2023
Expires: June 16, 2026
AGD Subject Code: 730
Cost: $599
CE: 1 CE Credit per Module
Catapult Education designates this continuing education activity for 1 credit
Meet the instructor
Katrina Sanders, RDH, BSDH, M.Ed, RF
A clinical dental hygienist, author and international speaker, Katrina is passionate about elevating the dental profession by creating an undeniable movement that educates, encourages, and empowers the profession to rise in its power. Known as the "Dental WINEgenist™," she pairs her desire for excellence in the dental industry with her knowledge and passion for wine. She is the Clinical Liaison, Hygiene Excellence & Innovation for AZPerio, the country's largest periodontal practice where she works alongside Diplomates to the American Board of Periodontology in the surgical operatory. She is the founder, CEO and keynote speaker for Sanders Board Preparatory and has been published in various publications including RDH Magazine and Today's RDH and is an advisory member for Modern Hygienist and the Dental Academy of Continuing Education. Recently, Katrina proudly received the 2023 Denobi Award for Clinical Excellence and Innovation in dentistry. Her philanthropic efforts include dental humanitarian work in developing countries, supporting abused and homeless animals and spreading awareness about the benefits of organ and tissue donation.

"The landscape of dentistry is changing. It is imperative that dental education rise to meet the demands of the community."
Katrina Sanders, RDH does not declare a conflict of interest. Catapult Education does not receive commercial funding for this activity. Participants should always check with their state licensing board to determine which, if any, certification or licensing is required to perform specific procedures in their jurisdiction. The opinions expressed on this website come from a variety of writers and speakers that are not necessarily endorsed by Catapult Education or its associates. Viewers are responsible for verifying the validity, accuracy and relevance of all content before implementing any techniques, products or recommendations into their clinical setting. Viewers understand that Catapult Education its associates, writers, speakers, and sponsored affiliates are not in any way responsible or liable for any adverse events that may occur (i.e., in a clinical setting or anywhere) based on any information disseminated from Catapult Education sites.
Privacy Policy: By signing up for this education course, you authorize Catapult Education, its partners and the webinar sponsor, permission to contact you for future continuing education opportunities, e-learning announcements and product offers.Cancellation/Refund: Your registration cannot be cancelled, and no refunds will be offered for this activity

Cancellation/Refund: Your registration cannot be cancelled, and no refunds will be offered for this activity.

Catapult Education, LLC is an ADA CERP Recognized Provider. ADA CERP is a service of the American Dental Association to assist dental professionals in identifying quality providers of continuing dental education. ADA CERP does not approve or endorse individual courses or instructors, nor does it imply acceptance of credit hours by boards of dentistry.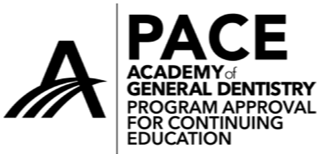 Approved PACE Program Provider. FAGD/MAGD Credit. Approval does not imply acceptance by a state or provincial board of dentistry or AGD endorsement. 6/1/20 to 5/31/24. Provider ID 306446.
Say NO to boring CE.
Want to stay in the loop about live and on-demand CE courses available to you?

Enter your email below 👇